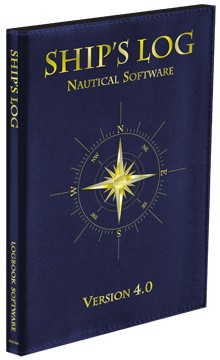 Ship's Log v4
Ship's Log v4 provides boating logbook functionality through a software interface. It was created in response to boater requests for a simple and quick way to store and retrieve logbook records on a computer.
To view screen shots, please download the Ship's Log v4
User's Guide
.
Convenient Windows® Interface

- The Ship's Log Windows® interface shortens the learning curve and provides familiar "cut and paste" functionality to the entire program.  This interface also allows data to be shared with other programs.  Import or export log narratives between Ship's Log and your favorite word processor.  Send a log entry via email.  Share your boating adventures!

Powerful Search Engine

- Log entries can be found quickly using a variety of search criteria.

Reduced Data Entry

- Many drop-down lists and user-controlled tables are included, to reduce data entry. Rather than typing the same data over and over, entries are memorized and made available via the click of a mouse.

Multi-Vessel Capability

- Ship's Log is used world-wide by recreational boaters, commercial fishing fleets and government agencies. A multi-vessel capability was built into the program from the start, to support these varied customers.

Integrated Crew and Guest Logs

- A variety of passenger/guest data can be stored in Ship's Log and quickly retrieved when needed, including medical and dietary information, as well as emergency contacts.

Trip Planning

- The Ship's Log inventory system allows you to quickly develop a shopping list for necessary provisions before you leave the dock.

Plenty of Logs

- Ship's Log provides a variety of log types (Fueling, Maintenance, Radio, etc.) to best fit your activity. Individual logs can be associated with a Trip Log, to keep your boating history organized.

Automated Offshore Watch Log

- Ship's Log provides an automated Watch Log tool, which includes the ability to connect to an external (NMEA) GPS device. It can be set to automatically record position and bearing information throughout a passage. To aid in documenting and exchanging information between watches, this log includes a narrative section for reporting watch status. For those who don't use a GPS device, the Watch Log can still be used by manually entering position and bearing data.

GPS Interface

- Ship's Log includes a GPS Interface based on the NMEA0183 protocol, for compatibility with many common GPS devices. You can view GPS data live in Ship's Log, and with a single mouse-click assign the GPS coordinates to a Waypoint. Note: The use of GPS features requires a GPS-to-PC cable and compatible GPS device.

Automated Maintenance Scheduling

- Vessel Maintenance is one of the most important safety factors for a boater. By providing fully automated maintenance scheduling and "push button" visibility of maintenance status, Ship's Log takes much of the work out of vessel maintenance. Once a maintenance record has been entered, it is automatically tracked until completed. Once a periodic maintenance task is complete, another record - complete with new due date - is generated. A simple mouse click displays all pending maintenance schedules and status, while available reports provide detailed historical information.

Integrated Parts Lists

- Each Maintenance log includes a Parts List which is integrated with Inventory logs. Parts are automatically decremented from Inventory when used for maintenance.

Advanced Inventory Management

- All vessel equipment, from engines to sails to food, can be tracked by Ship's Log. Inventory levels are automatically adjusted when an item is used as a part during maintenance, and when inventory gets low, Ship's Log will provide a warning so that you can premptively restock your supplies.

Portability

- Ship's Log allows many boaters to share in the excitement of your logs. Several sailing organizations keep their data on a shared server, so all of their members can view one another's logs. The commodore of one club emails planned itineraries to these members, so they can share details on Passengers, Waypoints and planned Trips. At the other end of the spectrum, many boaters use Ship's Log on their home PC's and print directly to PDF files, which they can then send to friends and family.

Paper Logs

- There are times when you might not have access to a computer while underway. Anticipating the need for manual log entries, Ship's Log provides the ability to print paper log pages. Print a batch of the log pages before leaving on a voyage, and use these paper logs until your journey is completed. When you've regained access to a computer, you can enter those records into Ship's Log and regain the benefits of an electronic logbook. If you prefer hand-written entries, you can maintain a printed logbook in tandem with the electronic logbook.

Pictures and Documents

- Ship's Log includes the ability to reference files on your computer. You can link pictures and video files to your log entries, or another popular use is to associate technical schematics to inventory items and maintenance logs. Ship's Log can also link web pages and email addresses to log entries.

Reference Material

- Ship's Log contains the complete text and graphics of the latest 240-page Coast Guard Navigation Regulations. Ship's Log provides "hot" buttons that take you directly to key sections of the document, for quick access to important information.